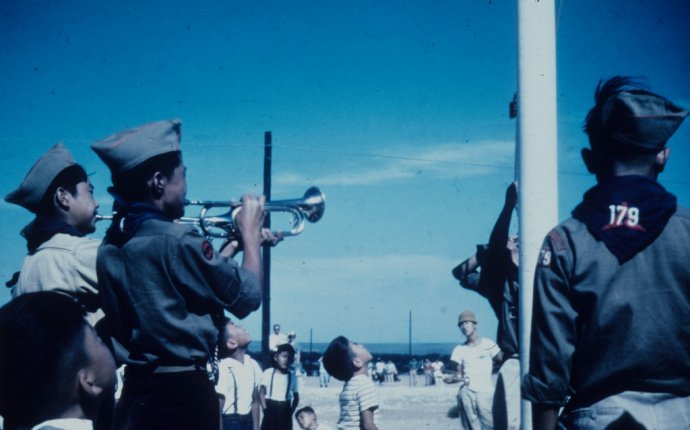 Japanese american traditions
In an Aloha shirt and khakis, Ken Yamada doesn't exactly look like a Buddhist minister. But put the boyish 47-year-old reverend of Berkeley's Higashi Honganji in a roomful of folk-dancing parishioners, and he fits right into the sights and sounds of Obon, a Japanese tradition steeped in deep religious meaning and cultural celebration.
"There's more coming, " he said as he greeted throngs of temple members who showed up at a recent church practice for Obon Odori or Obon dancing.
"Obon has a spiritual significance, but it also has cultural and community significance, " says the Japanese American priest. "People can put on their summer kimono and celebrate a Japanese festival."
From San Jose to Concord, Bay Area Buddhist churches like Yamada's are gearing up for Obon, which honors one's ancestors, especially those who died in the past year. Graves are swept and memorial services held. But Obon (O- BOHN) is also festive, with dancers clad in cotton kimonos, or yutaka, and happi coats, circling a musicians' tower in graceful rhythm as taiko drums keep the beat.
"Last year, we had more than 700 dancers, " says the Rev. Gerald Sakamoto of the San Jose Buddhist Church Betsuin in the heart of that city's Japantown. "We feel like we're close to exceeding that this year."
Both the Berkeley and San Jose festivals kick off this weekend, signaling the start of the Obon season, which in Japan is celebrated on the 15th day of the seventh or eighth month of the lunar year.
The origins of Obon, also called Urabon or Bon, can be traced to a Buddhist sutra that tells the story of Mogallana, a disciple of Buddha who, in meditation, saw his deceased mother suffering in the realm of Hungry Ghosts. He tried giving her food but it turned to flames. Buddha advised him to engage in a "jishi, " or retreat, and make an offering for his fellow monks. This done, he saw his mother released from suffering and he danced for joy.
Varying interpretations evolved over the years, including the belief that spirits of ancestors actually revisit this world. Pine torches are attached to bamboo to welcome spirits to the family home, and on the final day of the observance, spirits are said to return to the nether world, guided back by candle-lit lanterns that are set adrift on water.
To Yamada, the spiritual essence of Obon isn't about bringing rest to the dead or luck to ourselves or others.
"The most important thing is to reflect on our own lives, appreciate our own life and the people in it, " he says. "Obon is really a great observance of impermanence."
Obon remains one of the most important Buddhist observances. It is celebrated in several Asian countries but none with more extravagance than Japan, where nationwide travel hits a peak in July and August as millions of Japanese journey home for Obon. The largest Bon Odori festival is in Gujo Hachiman, a city in the mountainous Gifu prefecture of Japan's Honshu island, where as many as 100, 000 pilgrims converge to participate in four nights of dancing till dawn.
The first American Bon Odori was held in Hawaii in 1910. It wasn't until 1931 that the celebration reached the West Coast. The very first Bon Odori in the continental United States was held that year at the Buddhist Church of San Francisco. Now 107 years old, it is the oldest established Buddhist temple in the United States.
"We were the first to do Obon Odori, " says Jeffrey Matsuoka, president of the San Francisco temple. "In those days, it was always at night - we had lanterns strung up. But now we do it during the day - it's too cold here in San Francisco."
With its introduction to the United States, Bon Odori became one of the great Japanese American traditions of folk culture, noted The Rev. Mas Kodani of Los Angeles' Senshin Buddhist Temple, in his analysis of Obon in this country. "It reveals for all to see what remains of the old culture, what's in it that is still valued because it can still nourish and enrich us, and how much of it has taken root in its new environment to become something new yet familiar."
The typical Obon is a blend of somber reflection and celebration.
At the Southern Alameda County Buddhist Church in Union City, for example, The Rev. Shoyo Taniguchi will lead visits to six South Bay cemeteries, where altars will be set up with flowers and sutras chanted, "to bring everyone together, " she says.
But the temple will also hold a mini-bazaar and Bon Odori. Obon-related bazaars are a signature Japanese American event, with cultural attractions such as ikebana, or flower arranging, bonsai and other plant sales, food and music.
At the Palo Alto Buddhist Temple, "Bad Kharma, " a teen jazz band composed of the church's young Dharma members, will entertain. But, says Aiko Yamamoto, a 69-year-old volunteer, it's not "just fun. We have lanterns hanging with the names of our deceased members. So it's a reminder that this is a memorial."
Seeing young people attend Obon cheers Yamamoto.
"They're carrying on what their parents and grandparents started, " she says. "They like these rituals."
If the nuances of Obon escape the young, culture gets absorbed, as if by osmosis.
Lynne Ogawa, of Berkeley, who was raised a Buddhist and grew up going to Obon festivals in her native Maui, started attending Yamada's church when her daughter, Maya, was 5.
"I wanted her to have that experience, " says Ogawa.
Giggling with her friends at Obon practice, Maya, now 9, says, "I know all the dances."
Sakamoto, of San Jose, says festivals like Obon keeps together a community's tapestry.
"They create a "cultural presence that people continue to enjoy, " he says. "There is that recognition of the connections we share."
Festival schedule
- San Jose: July 9-10, San Jose Buddhist Church Betsuin, 640 N. Fifth St. Bazaar: noon-10 p.m. Saturday, noon-8 p.m. Sunday. Dancing: 7:45 p.m. Saturday, 6 p.m. Sunday. (408) 293-9292;
- Mountain View: July 16-17, Buddhist Temple, 575 N. Shoreline Blvd. Bazaar: 4-10 p.m. Saturday, noon-9 p.m. Sunday. Dancing: 7 p.m. Sunday. (650) 964-9426.
- Palo Alto: Aug. 6-7, Palo Alto Buddhist Temple, 2751 Louis Road. Bazaar: 5-10 p.m. Saturday, noon-9:30 p.m. Sunday. Dancing: 7:30 p.m. Sunday. (650) 856-0123.
Source: www.sfgate.com